Getting Started with GnomGuru
Client entry in 3 touches. Getting started with GnomGuru.
After spending 10-15 minutes, save dozens of hours, because you can record the client in just 3 touches.
One of most crucial things in small business is controlling your appointments and recording clients. No one likes to be forgotten so you will need a CRM system to organize your meetings and send notifications to clients. That is why GnomGuru App can be perfect for you – the appointment will be arranged in just 3 touches! Here is how it's done:

Quickly record customers
Remember all about the client before making a call
Send personalized SMS messages automatically
Keep records, analysis, and more.
Let's start with the basics - setup an appointment.
Example:
3 touches to record the customer's meeting (you can do it in two ways: during and after the call).
Touch 1: Choose a day for Vijay
Touch 2 (Press and Hold): Select the time
Touch 3: Select the duration of the meeting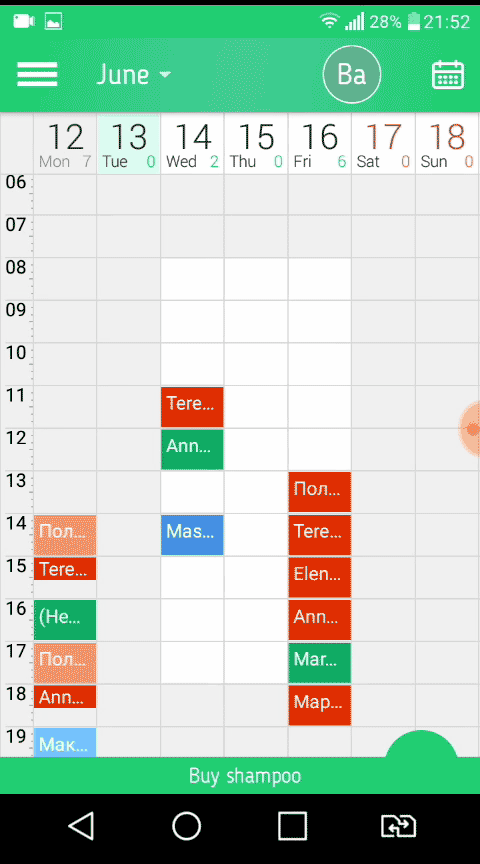 Done! This makes customer record very easy, right?
As a result a Meetings was create and also:
Gnome defined a Name and SMS notification was sent: Natalie, we are going to meet on June, 15 июля at 13:00


Notification created: Hello Natalie. We have a meeting tomorrow, June 15 at 13:00


Also Gnome created a Notification which will be send 40 minutes after the meeting: Natalie! Thank you for your visit! Hope you see you soon!
What you need to do now: