Integration possibilities: Gnom.Guru and vCard.is
Integration with the free vCard.is service
Instead of an inconvenient paper business card now you have an interactive tool to communicate with your master and make an online appointment. Synchronize your vCard and CRM Software!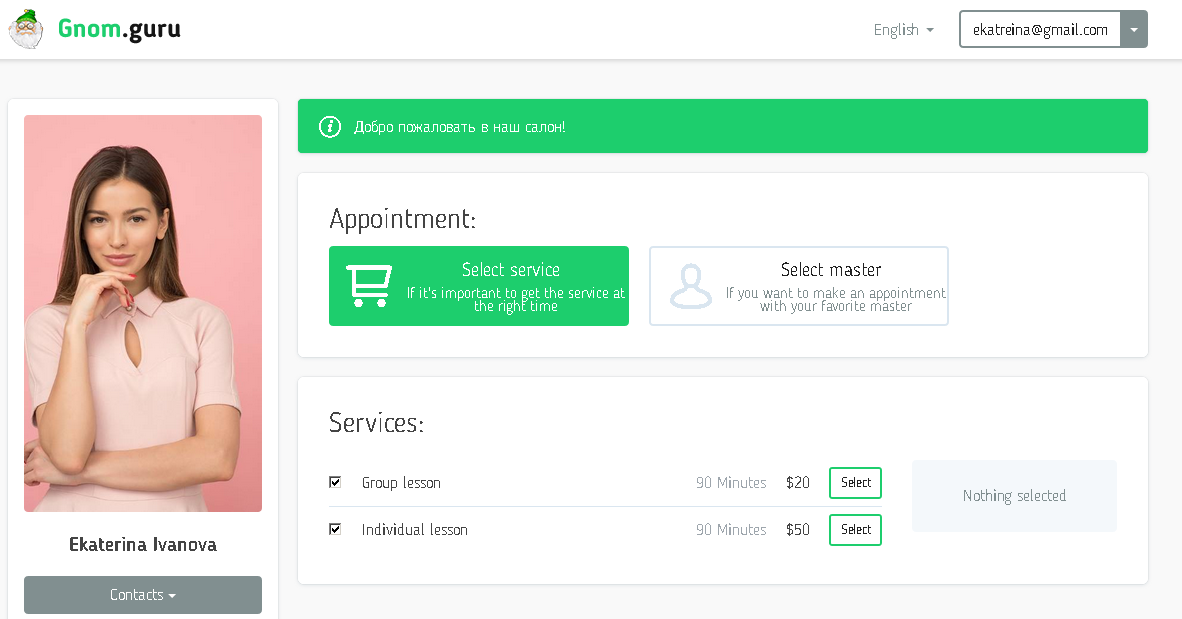 Integration possibilities: Gnom.Guru and vCard.is
Digital business card is a great thing that allows you to give your contacts to potential customers or partners in a modern format, without difficulties with paper. You simply send a link to an electronic card composed by yourself – according to your own taste. It contains all your contacts and the most convenient ways to contact you are highlighted with animation. Isn't that convenient? But it is even more convenient when an electronic business card is integrated with business management app Gnom.Guru. This creates a real synergy effect!
What to integrate
The ability to integrate these two services is based on the idea of interpenetration. Firstly you don't need to enter your contacts into Gnom.Guru business management software manually. Just enter the link to your digital business card in the system. In contacts section in the page of online scheduling they will see an electronic card that shows them necessary info in a convenient format.
Then place a link to the calendar & online scheduling page at the business card. This way you don't just send your contact information to a potential customer. Instead you give them a convenient tool to make an appointment online at the right time and get a quick confirmation.
How to integrate
The procedure of this mutual integration will not any cause difficulties even for a novice user of small business CRM. After creating an electronic business card choose the settings mode and copy your login which is located in the upper right corner. In personal cabinet select "Online booking", then "Settings" and "Contacts". Link to the electronic vCard.is is already entered: you only need to enter your username.
To place online booking page's link in electronic business card, select the preview mode in your personal account. Copy the URL displayed in the address bar. Now in the settings page select the "Buttons" block and ad the button. Here you see all necessary information about the integration of an online booking and electronic card. Read it and then click the "Simple button". Choose the title, insert the link in the box http://website.com and define button color suitable for your business cards. Button is ready!
Use an electronic business card for sales automation and customer management: it's easy and free!
If you have any questions, we will be happy to answer you!

Go to the «Contacts» section or write us to mail: support@gnom.guru